by Jason on Jan.19, 2011, under Technology, Video Games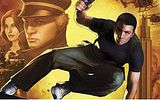 I've recently played Alpha Protocol and I have to say I was impressed.
I like Obsidian Entertainment, I won't deny it. Who can't love the zombie remnants of the creators of the original Fallout games? Sure, they've make mistakes…and seem to be rather poor at bug finding and fixing, but they are very skilled at creating entertaining stories which are good enough to forgive the occasional glitch or unresolved plot point. In fact, I sometimes like unresolved plot points, they make the story feel more a part of a larger world.
Why did Alpha Protocol impress me? It was a game with a morality system, and no karma meter. It brought you into the world of espionage and it completely indulged itself in the grey nature of the business. The game never judged your decisions, never told you that you were a monster. No floating messages foretelling karmic retribution. The characters in the game may, but the game itself passed no judgement. Instead, the characters reacted to your actions minor and major.
The game did get accused of poor AI and bugs, but the thing is I never encountered them when playing it! The AI was no worse than I've seen in other stealth games, and the game had no more bugs than any other RPG I've played. In fact, I only experienced one glitch in my entire…oh, four or five plays from start to finish.
The problem people had with this game, it seems, was they were playing it wrong. They were most likely trying to play it as a standard cover shooter like Mass Effect, which gets you shot to death.
The thing is, Alpha Protocol was a stealth-based RPG, and therefore needed to be approached with both in-game cunning and meta-game stat-building. You had to play thinking as an agent, and you had to play thinking as an RPG.
Alpha Protocol to me seemed a spiritual successor of Vampire: The Masquerade – Bloodlines, another game I thoroughly enjoyed, and it certainly delivered as such. It provided a complex world of interactions and personalities, where your decisions mattered and the products or costs of those decisions would appear after time instead of with an instant ding of the karma meter. And it was glorious.
Quote of the Day
"I just don't like shooting bell boys. They look like sad little clowns."
Mike – Alpha Protocol
:agent, alpha, choices, espionage, karma, morality, obsidian, protocol, review, spy, video game