Archive for August, 2011
by Jason on Aug.13, 2011, under Games, Programming, Technology, Video Games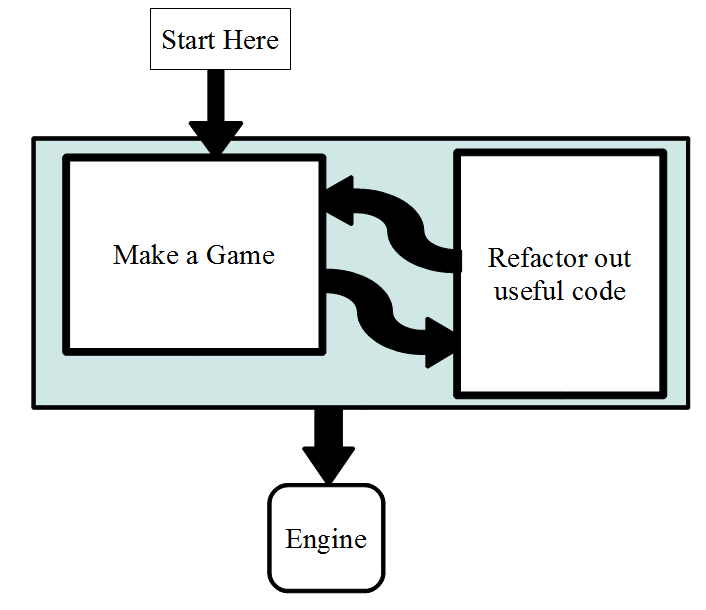 A common mistake people learning programming with an eye towards game development make is the idea that they require a game engine. It just seems natural, a car needs an engine to move so surely a game needs an engine. If only life were so simple.
Look at the history of most of the successful game engines in history, let's use the Unreal Engine and the id Engine for my examples here, and you'll find they started off with the game and the engine came afterwards. The Doom Engine (precursor/father to/first version of the id Engine) was not written to be a powerful game engine (for the time), it was written to run Doom. It just so happened a lot of the code got reused in other projects and thus the id Engine was born.
The Unreal engine began, oddly enough, with the game Unreal. Then a lot of the code for Unreal got used in lots of games that followed, being changed, refined and completely rebuilt along the way.
Game engines are not so much invented as they are accidentally created. You write a game, and then you refactor a lot of the code you used so it can be used in a later game. This alone is often enough for the developers/publishers/marketing department to say that both games run on a modified version of the same engine. And I guess technically it's true.
The idea of a game engine is inherently ill-defined, it can mean a whole lot of things. At the end of the day, seeking to create a "Video Game Engine" is a foolish endeavour, as trying to create something ill-defined often is. Without a lot of luck and skill, you'll get distracted by the shiny things you can do and at best you'll wind up with a fantastic technical demo, but not something wholly individual you can use to make a game.
In fact, one could easily argue that the creation of a technical demo, getting someone to run around the screen, is one of the simplest aspects of game development. It is often the unique aspects of a game, the unique code which doesn't quite always fit efficiently into the average generic "engine", that provide the real challenges in coding and in developing.
The reason the Unreal Engine, the id Engine and the Source engine are at their current state of awesome is because they have been used to create so many games that the code-base has been refactored, modified and reused countless times in a long, iterative process. This is how a true game engine is made: iteratively.
The best way to make a 'game engine' is, at the end of the day, almost always going to be to make a game. The old adage, "Make games, not engines", is as true today as it was in the days of Doom.
Quote of the Day
"My advice to you, if you're trying to write an engine, is: Don't. No matter what your reasons are — it doesn't matter if you're writing an engine so you can write your dream game, or if you're writing an engine because you think it will be a good learning experience, or any number of similar reasons. They're all wastes of time."
http://scientificninja.com
3 Comments
:design, Engine, flowchart, Game, game design, game engine, game engine design, video, video game, video game engine
more...
by Jason on Aug.06, 2011, under Technology, Video Games
So yeah, if you haven't heard Bethesda, the company behind The Elder Scrolls series and present owners of the Fallout license, have been a bit lawsuit-heavy as of late. Or ZeniMax Media has, it's kind of hard to tell since Bethesda's founder also founded ZeniMax and then two are often referred to interchangeably.
Ages ago they tried to shut down Morroblivion, which was a project to let people convert their Morrowind game to Oblivion's format. That worked for a bit, but now Morroblivion is back and going strong. Can't stop the signal.
Then they had a legal tiff with Interplay, whom they purchased the Fallout license off, for several reasons.
First, Interplay were trying to sell Fallout 1, 2 and Tactics as "The Fallout Trilogy". Whilst selling these old but awesomely epic mega amazing games (and Fallout Tactics) to the newer generation is something I completely support, I can understand why Bethesda got ticked off: Fallout Trilogy would make most people think "Fallout 1, 2 and 3″. Either the people behind that product didn't realise this and are morons, they did and didn't think it'd matter, and thus are morons, or they were just being malicious and trying to con people. Either way, Bethesda had a point.
Then they tried to stop Interplay developing the Fallout Online MMORPG. Now I have my doubts that Fallout would work as an MMO, how the heck Fallout can feel suitably post-apocalyptic with a million n00bs running around shouting things like "L0L JUST PWN3D TEH SUPAR MUTENTS!" and the like? But that's not what Bethesda's issue was.
Best as I can tell, Bethesda signed a deal with Interplay that involved them bringing the Fallout MMO to a decently presentable state by a certain date. This date had long since passed, and Interplay had shown no real progress with the game. Bethesda didn't like this, and told them to stop working on Fallout Online. They didn't.
Again here I think Bethesda has a point. You contract someone to build you a shed in a week, and come back a fortnight later to find the shed not only not built, but the builders sitting next to where the shed should be drinking beer, you're gonna get pissed off. Maybe they didn't react as best as they could, but all in all I remain on Bethesda's side there.
Now, Bethesda (or ZeniMax, it's hard to say which since the two are kinda the same company but kinda not due to some legal stuff) are suing Mojang, the creators of Minecraft. Why? Because the next game Notch plans to work on after Minecraft is called "Scrolls". And Bethesda have a game series called "The Elder Scrolls".
What. The. Fuck!
Now, I really really really hope this is some dick playing a practical joke because if it's not, well…I'm sorry, but there's a line in the sand and Bethesda/ZeniMax/whatever will have finally crossed it here. To put this in context, it's like the Milton Bradley's ghost (The creator of "The Game of Life") suing Valve for "Half-Life" due to the use of the word 'Life'. Seriously, if this is a valid tactic why not just release a series of products that use, one by one, every word in the English dictionary. Then everybody will be forced to use foreign words, made-up words, or pay you to use yours! It's genius I tells ye!
Seriously, line. Sand. Crossed. Congratulations Bethesda/ZeniMax Media, if this is you and you go through with this then…well, I'll still buy Skyrim because I'm your bitch but come-on!
Quote of the Day
"I sincerely hope Bethesda isn't pulling a Tim Langdell."
Notch
Leave a Comment
:bethesda, Elder Scrolls, lawsuit, legal, minecraft, mojang, Morrowind, notch, Oblivion, scrolls, skyrim, sue, the elder scrolls, zenimax, zenimax media
more...