Tag: morality
by Jason on Jan.19, 2011, under Technology, Video Games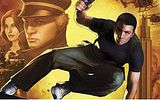 I've recently played Alpha Protocol and I have to say I was impressed.
I like Obsidian Entertainment, I won't deny it. Who can't love the zombie remnants of the creators of the original Fallout games? Sure, they've make mistakes…and seem to be rather poor at bug finding and fixing, but they are very skilled at creating entertaining stories which are good enough to forgive the occasional glitch or unresolved plot point. In fact, I sometimes like unresolved plot points, they make the story feel more a part of a larger world.
Why did Alpha Protocol impress me? It was a game with a morality system, and no karma meter. It brought you into the world of espionage and it completely indulged itself in the grey nature of the business. The game never judged your decisions, never told you that you were a monster. No floating messages foretelling karmic retribution. The characters in the game may, but the game itself passed no judgement. Instead, the characters reacted to your actions minor and major.
The game did get accused of poor AI and bugs, but the thing is I never encountered them when playing it! The AI was no worse than I've seen in other stealth games, and the game had no more bugs than any other RPG I've played. In fact, I only experienced one glitch in my entire…oh, four or five plays from start to finish.
The problem people had with this game, it seems, was they were playing it wrong. They were most likely trying to play it as a standard cover shooter like Mass Effect, which gets you shot to death.
The thing is, Alpha Protocol was a stealth-based RPG, and therefore needed to be approached with both in-game cunning and meta-game stat-building. You had to play thinking as an agent, and you had to play thinking as an RPG.
Alpha Protocol to me seemed a spiritual successor of Vampire: The Masquerade – Bloodlines, another game I thoroughly enjoyed, and it certainly delivered as such. It provided a complex world of interactions and personalities, where your decisions mattered and the products or costs of those decisions would appear after time instead of with an instant ding of the karma meter. And it was glorious.
Quote of the Day
"I just don't like shooting bell boys. They look like sad little clowns."
Mike – Alpha Protocol
Leave a Comment
:agent, alpha, choices, espionage, karma, morality, obsidian, protocol, review, spy, video game
more...
by Jason on Oct.30, 2010, under Life, Technology, Video Games
I'm not going to deny it, I find moral choices in video games fascinating. On the one hand, having options and therefore the illusion of control is very nice. On the other, for f*cks sake video games, why is the choice always to be either Jesus, Satan or apathetic?
At it's core, our sense of "Morality" is just avoidance of the negative consequences of actions that aren't worth the potential benefits of those actions. Conscience is the voice in our head that says "Well, if we get caught doing x sh*t will hit the fan and life will suck for awhile". Whether this is something inherently involved into people, or a conscious process, does not change that this is where morality stems and a moral system in games needs to be designed to reflect that. Games have no real consequences anyway, which is why games have to dangle some form of engineered carrot in front of players.
Star Wars: KoToR had simple carrots, dark side powers which hurt enemies and light side which healed and buffed allies. Being light side or dark side was basically a playing style choice. Dark side sometimes had an extra money carrot, but not always. Sometimes you got more from light side. Or you could take less light-side points by asking for a reward but get more money or…you get the idea.
Mass Effect has two carrots: Being a bastard gives you renegade and lets you do more intimidation, being a paragon let's you be more charismatic. But the carrots are the same both ways, being renegade is just funnier to watch most of the time. I can't be the only player he basically did all the big paragon choices but at every other step of the way was a complete bastard, just so he could laugh at the bastardry.
Both these carrots give players "the weaknesses of amorality", being a grey made you inherently weaker which sucked.
Personally I'd like to see a game implement a morality system akin to that of the World of Darkness: One-way. Being cruel cost you morality, but when only your current morality was above the level of cruelty of that action. A common thief would not lose any more morality from stealing, but if they ever kill someone they'd take a plunge. Also it means the game can easily keep track of how to treat the player, you can't "puppy-poke" your way to becoming the Lord of the Sith.
Of course some kinds of carrots would be required. WoD implements "derangements", as your character goes more (a/im)moral they go insane(r). This means players have to balance the rewards of their "evil" actions with the risked penalties of such actions. Also this situation can lead to interesting problems, like the "batman dilema". If Batman (the player) kills Joker (some bad guy), killing becomes easier for Batman (Morality score lowers) and he may therefore do it again (no longer risk of gaining a derangement from murder). You effectively put the player at the top of the slippery slope and watch them roll down.
Understandibly, choices and a morality system can only be implemented into a relatively freeform game, otherwise they feel incredibly painful. They are best suited to games which, like novels, explicitly make one of their purposes simply to be making you think. Take for example, Planescape: Torment. A cult classic with very little emphasis on combat and much ultimately on a simple question:
"What can change the nature of a man?"
A question with so many answers that reveal so much about the person creating the answer. Take me for example, ask me this question and my answer would be profit. What can change the nature of a man? What he stands to gain from making that change. Others would come up which so many different answers, age, time, death, belief, hope, fear, regret, so many possibilities. These kinds of games are fascinating. They offer insights into the human condition, and our own depravities.
Knights of the Old Republic 2, Fallout 2, Planescape: Torment, all of these were story based in my opinion. It was the story that interested me, the story that kept me playing, and the choices that story provided that made me play again.
These are the games that we replay because we want to see real differences in our choices, they are highly character based, highly plot heavy, and I think we need more of them. I am interested in what you all think of almost entirely story-driven games, to the point of being almost if not entirely interactive fiction. From a game development point of view, the pros and cons of such games would be a fascinating discussion.
So, what is your opinion on low-action, high-narrative games? What do you think can change the nature of a man?
Quotes of the Day
"The belief in a supernatural source of evil is not necessary; men alone are quite capable of every wickedness."
"What makes mankind tragic is not that they are the victims of nature, it is that they are conscious of it."
Joseph Conrad
1 Comment
:bioware, choice, choices, consequences, fallout, Game, humanity, kotor, masquerade, Mass Effect, morality, morals, obsidian, philosophy, requiem, star wars, vampire, video games, white wolf, world of darkness
more...